Pride and Prejudice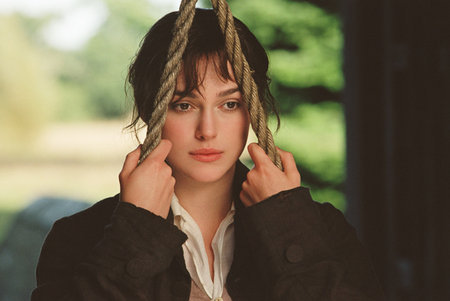 Keira Knightley, Matthew MacFadyen, Brenda Blethyn, Judi Dench and others...
127 minutes - U - UGC Cinema
I guess the question everybody wants to know is how the film compares to the
BBC TV series
. Personally, I reckon the two complement each other quite well. The TV series has the advantage of 5 hours to play with, allowing much more of the original plot to be captured, particularly the slowly evolving relationships. The film version has the advantage of getting the plot across to you in one go, so it in someways makes more sense (I didn't religiously follow the TV series, so I may have missed important bits along the way). Equally the acting is, arguably better, particularly with some of the more minor roles: Each of the Bennett sisters has a distinct personality; Mr Collins is fabulous; etc.
The buildings, scenery, costumes and choreography all play their own part in the atmosphere and magic of the film.
In summary: A must see for any P&P fan, and anybody who doesn't actively hate happy endings.
Rating: 4/5