Martin, I think the peaks you see in
your graph
are real.
Personally, I kept no particular track of the race time, or my own pace on a mile by mile basis during the race. However once I passed the last corner, I could see the clock above the finish time, which was just reaching the 2:08 mark. At this point I figured if I pushed it, I could make it inside 2:10, and sprinted the finish. I'm also pretty sure if the time said 2:11 I wouldn't have bothered.
I would therefore hypothesise that the number of people finishing in a time ending in a nine will be greater than any other digit. Similarly I thing the quarter hour marks would be attractive for similar reasons, therefore 4s are to be expected too.
In the histogram below, the last digit of the finishing time in minutes has been calculated. This clearly fits the hypothesis.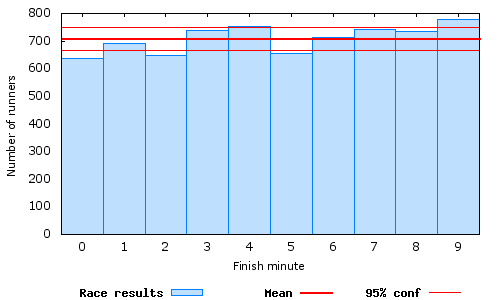 My A-level statistics somewhere in the back of my head tells me that:
Actual Hypothesis: Finishing time is influenced by human desire to beat certain time barriers.
Null Hypothesis: Finish time is random, therefore probability of a runner finishing in a time ending in a "9" is 0.1
Assume the Null hypothesis is true.
Using binomial theory calculate probability of 779 or more runners out of 7086 finishing in a time ending in 9.
If probabilty is less than 5%, Null Hypothesis is rejected and Actual Hypothesis is accepted.
According to gnumeric, the chances of 779 or more successes out of 7086 trials with a success rate of 0.1 is a mere 0.28%. The AH is accepted.
The 95% confidence interval is between 666 and 750 successes.
Update
Bit of a thinko there. 666—750 is the
90%
confidence limit for the mean (assuming binomially distributed, p=0.1, n=7086). The
95%
confidence limit is more like 659—757. Can't be bothered to update the graph.